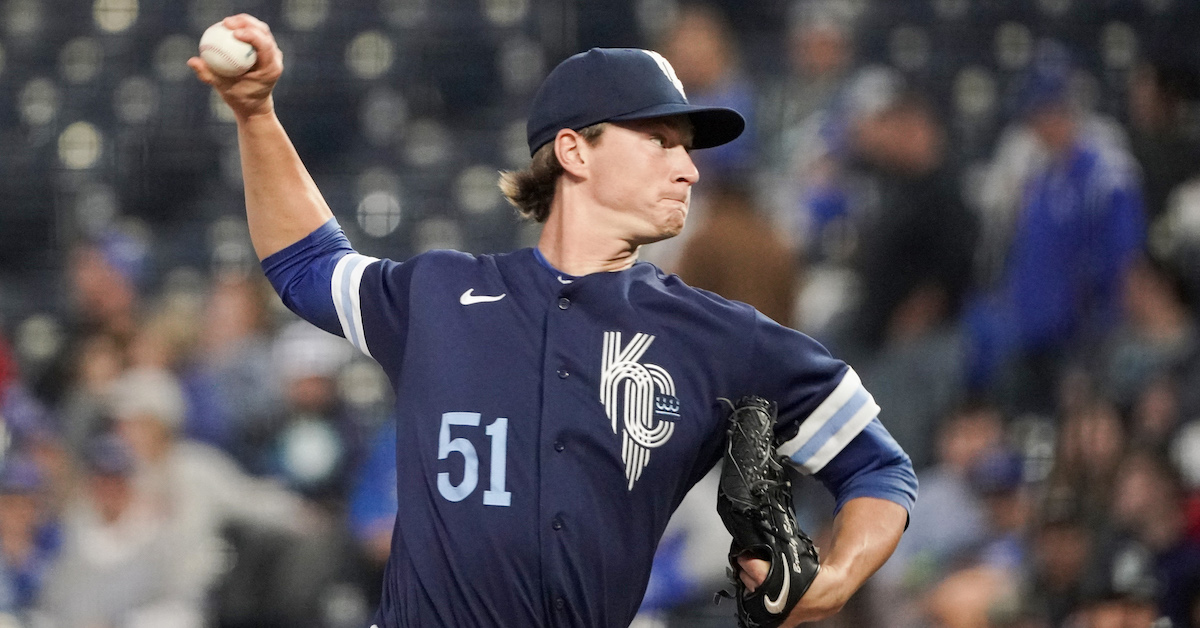 Brady Singer is the last man standing in Kansas City
Very little has gone to plan in Kansas City this season. Yes, Bobby Witt Jr. made his major league debut alongside a number of other promising young players, but the team is still on course to drop 97 games, its sixth consecutive losing season. After investing in a number of free agents ahead of the 2021 season and taking some small steps forward, the franchise has taken a giant step back this year.
Their inability to emerge from a rebuilding cycle that began after their 2015 World Series victory led to the dismissal from president of baseball operations Dayton Moore earlier this month. After guiding the franchise for 16 years, the Royals decided new leadership was needed to restore the team to relevance. While Moore was sometimes ridiculed for his adherence to old-school building and strategy methods, his track record should speak for itself. After taking the helm in 2006, he slowly rebuilt the entire organization, culminating in their championship season. Unfortunately, this success was short-lived and the team slipped into another round of rebuilding soon after.
Last week, RJ Anderson wrote about what's next for the Royals as the franchise navigates this inflection point. He identified a glaring problem that really sank the team during its rebuild: an inability to draft and develop high-quality pitching. Since 2014, Kansas City has drafted 10 first-round pitchers — two-thirds of their first-round picks in that span have gone to pitchers. That's an enviable amount of talent, but so far almost everything has gone to waste:
Royals first-round pitcher draft pick
| Player | Draft Year, Round, Pick | highest level | MLB Seasons |
| --- | --- | --- | --- |
| Brandon Finnegan | 2014, 1, 17 | MLB | 2014-18 |
| Foster Griffin | 2014, 1, 28 | MLB | 2020-22 |
| Ashe Russell | 2015, 1, 21 | R | — |
| nolan watson | 2015, 1, 33 | YY | — |
| Brady Singer | 2018, 1, 18 | MLB | 2020-22 |
| Jackson Kovar | 2018, 1, 33 | MLB | 2021-22 |
| Daniel Lynch | 2018, 1, 34 | MLB | 2021-22 |
| Kris Bubic | 2018, 1, 40 | MLB | 2020-22 |
| Asa Lacy | 2020, 1, 4 | YY | — |
| Frank Mozzicato | 2021, 1, 7 | A | — |
A year after being drafted, Brandon Finnegan was traded to the Reds in the big Johnny Cueto swap; he has been out of the majors since 2018. Foster Griffin made his major league debut with the Royals in 2020 and was traded to the Blue Jays in July after pitching just six major league innings for Kansas City. Ashe Russell and Nolan Watson have both stalled in the small minors, with injuries affecting the former's career and a 6.32 career ERA in the minor league holding the latter back.
The 2018 draft class stands out as a particularly glaring example of unrealized potential. That year, the Royals drafted Brady Singer, Jackson Kowar, Daniel Lynch and Kris Bubic in the first round. At the time, he was being hailed as a draft class that could drastically change the fortunes of the franchise. Four years later, all four made their major league debuts – an outstanding graduation rate – but only one made a real impact in Kansas City:
2018 Royals Draft Class
| Player | Age | IPs | K-BB% | TIME | FIP | WAR |
| --- | --- | --- | --- | --- | --- | --- |
| Brady Singer | 25 | 340.1 | 15.7% | 3.91 | 3.84 | 5.9 |
| Jackson Kovar | 25 | 46.0 | 6.4% | 10.76 | 6.41 | -0.6 |
| Daniel Lynch | 25 | 195.0 | 10.6% | 5.22 | 4.64 | 1.3 |
| Kris Bubic | 24 | 304.0 | 9.1% | 4.97 | 5.00 | 1.0 |
Kowar looked particularly lost in the big leagues, and Lynch and Bubic floundered in their limited time at the top level. It's probably still a little too early to quit on these three — especially the last two — but thank goodness Singer has had some success this year.
Singer made his major league debut two years after being drafted and put up some pretty solid numbers in his first two major league seasons. He posted nearly identical FIPs of 4.08 and 4.04 in 2020 and 21, although his ERA jumped to 4.91 last year, following bad luck BABIP and a rate of extremely weak strand. Despite this modest success, Singer was relegated to the bullpen to start the 2022 season. He made three appearances as a long reliever before being sent to Triple-A to reset and rebuild the workload. a choke. He was recalled May 17 and pitched a seven-inning scoreless gem against the White Sox, striking out nine, a new career high for him. He then held the Twins scoreless for another seven innings in his next start. In total, he has compiled a fantastic 2.85 ERA and 3.52 FIP in 23 starts since returning to the majors.
Earlier this year, Athleticismby Eno Sarris and Alex Lewis investigation what appeared to be an organizational issue with fastball quality. They identified numerous form, location and speed issues that were present across the Royals' pitching staff.
"Since the start of 2021, Royals starters have had the smallest vertical difference between movement on their four seams and their sinkers. They're trying to throw better four-seams but, right now, it's hard to tell what kind of fastball they're even throwing. … Overall, it seems that optimal mixes of location, form and speed are currently lacking for starter Royals. Whether it's in the scouting department or the coaching department – or a combination – it's clear that something has to change for their fortunes to improve.
It's important to note that Singer was downgraded to minors just days after this article was published and was not mentioned in it at all. That's key because since his recall, Singer's lead form has improved dramatically. During his 2020 rookie season, his lead averaged about 19.1 inches of raw vertical break. This amount of movement is in the dreaded middle zone between a four seam and a sinker, close enough to both step types to be ineffective. A slightly higher release point last year affected the axis of rotation of the pitch and resulted in the pitch not dropping as much. Batters jumped on it, hitting it at the rate of a .384 wOBA and an expected .385 wOBA on contact. The pitch generated a few extra swings and misses, but even a 22.3% smell rate couldn't make up for all that strong contact.
Singer's exit point has dropped this season, below where it was in 2020, and his sinker shape has definitely benefited: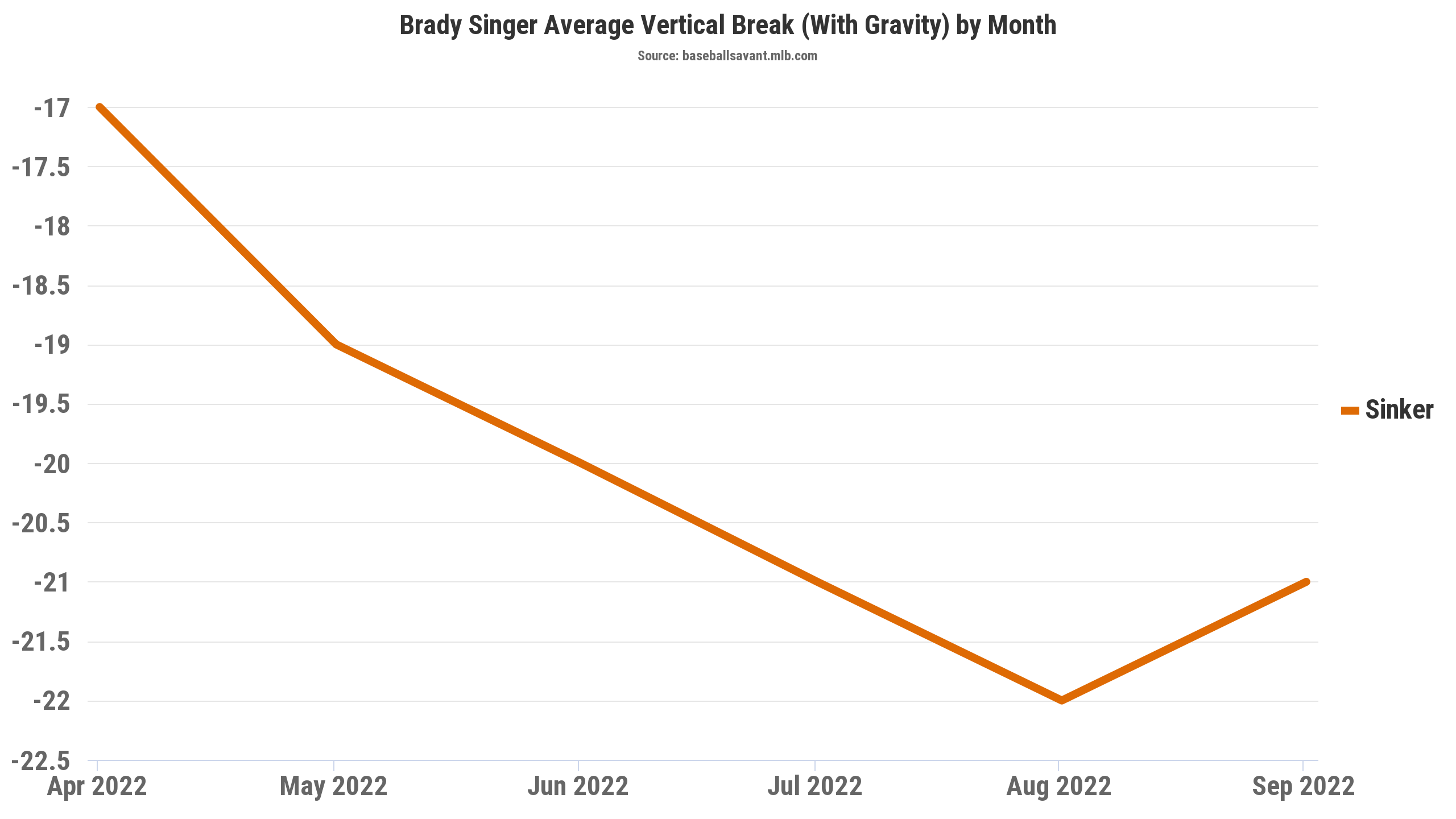 After averaging 17.7 inches of gross vertical movement last year, he added three inches of drop to the field and improved its shape every month as the season progressed. The field still doesn't stand out compared to other sinkers in the league, but its effectiveness has definitely returned. He allowed a wOBA of .314 and an expected wOBA of .356 in court contact, both ratings slightly better than the league average for the type of court. The pitch odor rate dropped to 14.1%, decent for a lead but well below what it was generating last year.
When he needs a swing-and-miss, Singer turns to his slider. This pitch has always been a weapon for him and his odor rate currently sits at a career high of 33.7%. The biggest difference with his breaking ball is where he locates it. He throws his slider into the zone much more often this year (48.4% of the time, compared to 44.6% last year), and despite catching more plate, the throw is more effective than ever . In the zone, opposing hitters still breathe 19.9% ​​of the time they swing in the field, the highest rate of smell in the zone of Singer's career and well above the league average for the type of terrain.
It's not just his cursor either. Singer throws his sinker into the zone nearly 60% of the time, a huge jump from what he was doing before. While piping the sinkers to the plate might not be the most ideal approach, it worked well for him due to the aforementioned improvements in contact management. And by locating in the zone much more often, Singer reduced his walk rate from 9.0% to just 5.7%. He's reduced the number of baserunners he has to get around, meaning the contact he allows isn't as likely to result in a tally. A BABIP that returned to league average and a strand rate that greatly improved led to an ERA that exceeded its FIP by more than half a run.
If there's one concern worth watching, it's Singer's lack of a third tone. He threw a change about 7.8% of the time this year, a career high, and nearly all of them were thrown to left-handed hitters. It's not a particularly effective pitch, but it gives him something to control opposite-handed hitters. The other problem that comes with Singer's shallow repertoire is a significant penalty when facing lineup more than twice; his wOBA allowed when working on a formation for the third time increases to .354. Continuing to develop his shift might help fix those issues, but his sinker and slider provide a solid foundation that has worked for him this year.
It is unclear whether the Royals will seek to reshuffle all of their development staff when Moore's permanent replacement is appointed. With plenty of raw pitching talent languishing in the organization, improving their pitching pipeline should be a top priority for anyone supporting baseball operations. Defying the downward trend of his draft classmates, Singer made the right adjustments and improved his prospects. He may not be a frontline starter for the Royals' next big team, but he can be a solid contributor in the meantime. That's more than can be said for the rest of the Royals staff at the moment.