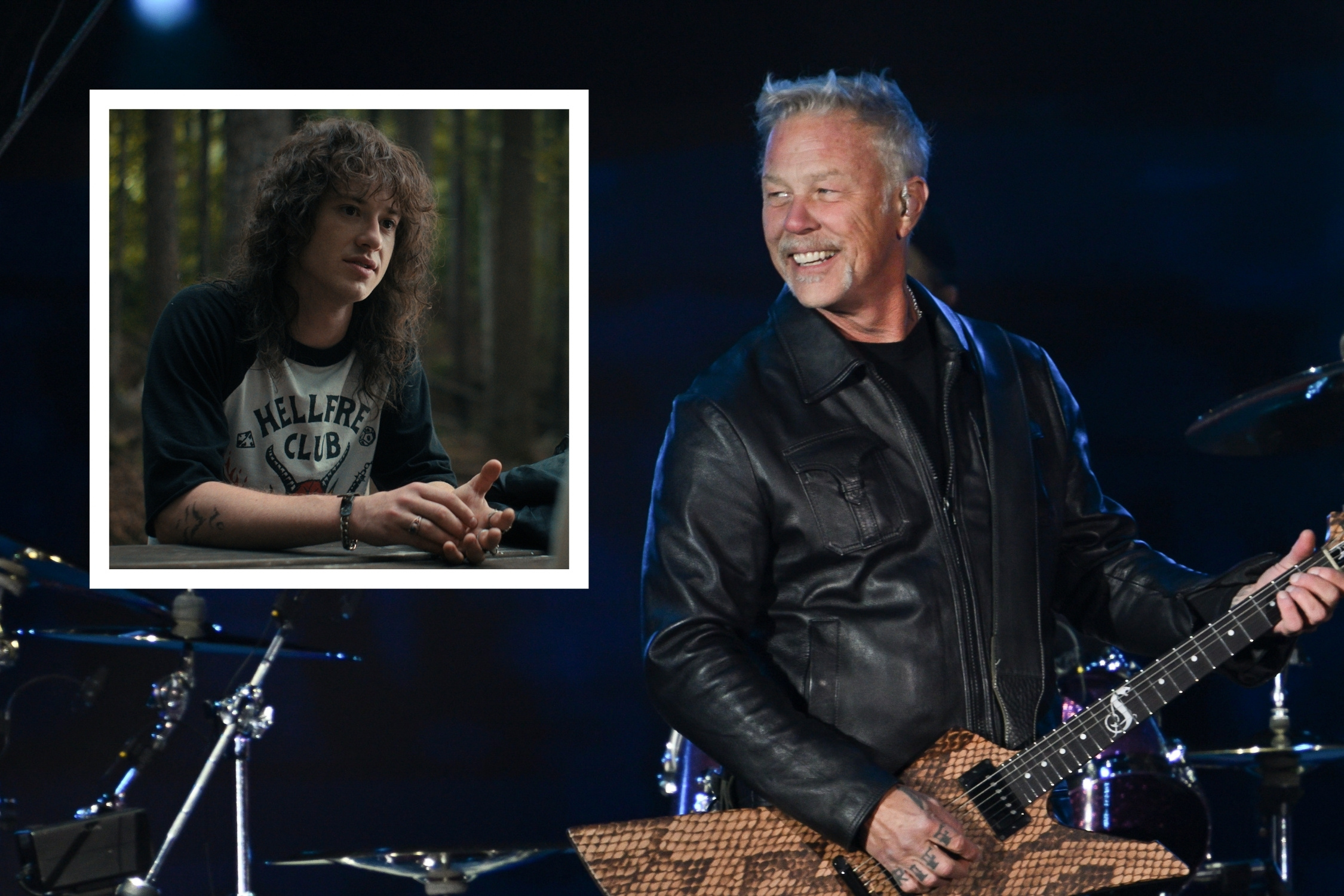 Metallica Fans Enraged By Singer's 'Stranger Things' Halloween Costume
Metallica singer James Hetfield got the meta this Halloween in a move that seemed to upset many of his own fans.
The thrash lord had dressed up as Netflix's Edward "Eddie" Munson Strange things. Some young viewers recently discovered the metal veterans through the popular show, during which Munson played the band's banger from 1986's "Master of Puppets" during a pivotal scene.
But just as quickly as the band's new fans fell in love, they quickly "cancelled" the band after learning that its past was controversial.
Anyway, Hetfield paid tribute to the Netflix show in a new post on the band's Instagram account. In the photo, the singer and rhythm guitarist wears a denim jacket, black pants and a long black wig while holding devil horns and sticking his tongue out. He also sported a white shirt with a red devil on it, similar to what Munson, played by actor Joseph Quinn, donned in Season 4 of the show.
Haters flocked to Metallica's Instagram, with snark-infused takes like "Stop" and "F*** sake."
Another upset fan replied, writing, "I love you Metallica, but no…", and an Instagram user called @hetfieldxnmacca commented in all caps, "NOT THAT."
Other fans were more charitable regarding Hetfield's Halloween cut.
One Instagram user replied to the group's photo: "Love it!!! James you are so adorable!!! Happy Halloween!!!" adding several Halloween-related emojis.
Another commenter wrote, "Gate makes Metallica fans cry."
Someone else noted the proportion of supportive and diss-related replies, writing: "Comments: 49% 'No' 'why' 'stop' 49% 'God' 'Yeah James' 2% 'Happy Halloween' '[laughing emoji].'"
A photo of the costume also made its way onto Twitter, where Metallica fans were equally divided. Many noted how the Hetfield-Quinn bromance had come full circle, while one upset social media user wrote, "omw for myself" in response.
A representative for Metallica declined Newsweekrequest for comment.
Over the summer, Metallica went viral on TikTok after the band dueted the "Master of Puppets" scene, and the video racked up millions of views.
Quinn joined the thrashers for a backstage jam session at Lollapalooza, where the band screened stranger things clips during their performance of "Master of Puppets". The heavyweight single also recently graced the Billboard Hot 100 chart, for the very first time.
Metallica praised the series as the final season aired on Netflix, saying, "It's an incredible honor to be an integral part of Eddie's journey and to keep all the other amazing artists company again. featured in the series."
Newsweek has reached out to Quinn's reps for comment.