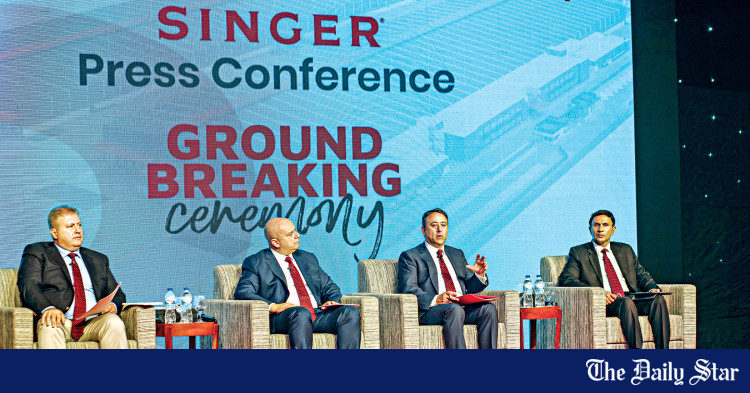 Singer invests $78 million in a new factory
Will produce import substitutes for home appliances
From left to right Nihat Bayız, Chief Technology Officer of Arcelik, Cemal Can Dincer, Chief Commercial Officer, Fatih Kemal Ebiclioglu, President of Durable Goods Businesses of Koc Holding, and MHM Fairoz, Managing Director and CEO of Singer Bangladesh attend at a press briefing to announce the inauguration of a Singer Bangladesh production facility at the Radisson Hotel in Dhaka yesterday. Picture: star
">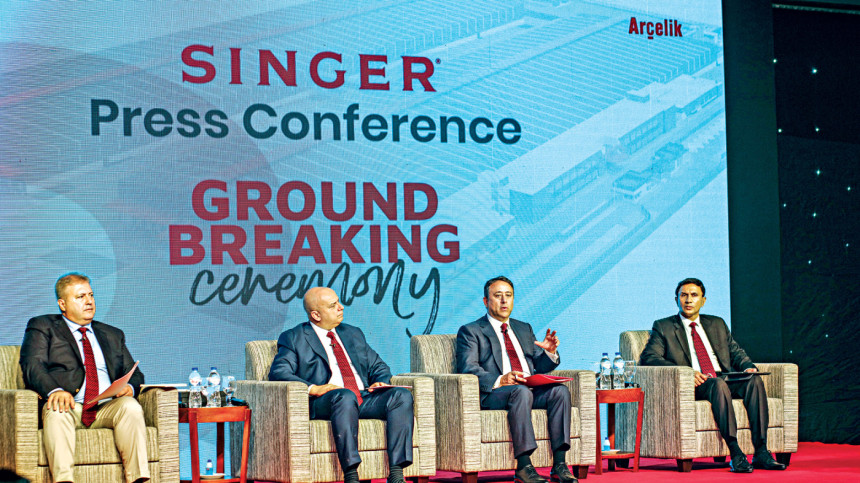 From left to right Nihat Bayız, Chief Technology Officer of Arcelik, Cemal Can Dincer, Chief Commercial Officer, Fatih Kemal Ebiclioglu, President of Durable Goods Businesses of Koc Holding, and MHM Fairoz, Managing Director and CEO of Singer Bangladesh attend at a press briefing to announce the inauguration of a Singer Bangladesh production facility at the Radisson Hotel in Dhaka yesterday. Picture: star
Singer Bangladesh is investing about $78 million to set up a new home appliance manufacturing plant in the Narayanganj Special Economic Zone to expand local production of its products, according to company officials.
The home appliance manufacturer and retailer, in association with Koç Group's flagship company Arcelik, broke ground on the construction of its first-ever state-of-the-art manufacturing unit in the country yesterday, they said.
The new unit will produce refrigerators, televisions, washing machines, air conditioners and other major household appliances, which in turn will reduce imports of these items.
Additionally, the facility will generate around 4,000 job opportunities while developing the local supplier base that will meet the needs of the industry in the future, officials said during a press briefing at Radisson Blu Dhaka. Watergarden.
At the event, Dr. Fatih Kemal Ebiclioglu, Chairman of Durable Goods Businesses of Koc Holding, said they hoped the move would increase Singer Bangladesh's manufacturing capacity and strengthen its position in the local market.
Ebiclioglu, who hopes the new unit will go into production by 2023, later said he would consider exporting products made at the new plant after meeting domestic demand.
Cemal Can Dincer, Commercial Director of Arcelik, said the investment marks a new chapter in their journey to Bangladesh.
"With support from our new factory, we plan to locally produce 90% of our products for local consumers," he added.
MHM Fairoz, Managing Director and CEO of Singer Bangladesh, said the company's new state-of-the-art manufacturing facility will be built to LEED gold standards.
LEED is an internationally recognized green building certificate.
He went on to say that Singer will bring the know-how of energy-efficient products and production technologies to Bangladesh, which will help the country transition to a low-carbon economy.
"Furthermore, Singer's green factory in the Bangladesh Special Economic Zone will make a significant contribution to economic activity and employment," he said.
Nihat Bayiz, CTO of Arçelik, was also present at the event.
Mustafa Osman Tarun, Turkish Ambassador to Bangladesh; Abdul Azim Chowdhury, Additional Secretary and Executive Member of Bangladesh Economic Zones Authority, and other senior officials and stakeholders were present at the inauguration ceremony earlier the same day.
Koç Holding is the only Turkish company represented in the global Fortune 500 list. Arcelik acquired the holding company from Singer Bangladesh in 2019.
The Koc Group sees sustainability as a business model and places it at the center of all its operations. As such, Arcelik is committed to net zero emissions by 2050 to address the climate crisis.
The group aims to extend its vision of sustainability to all the countries in which it operates and to create value for everyone and the planet, and its investments in Bangladesh will continue with this understanding, according to Singer Bangladesh.